When it comes to Christmas and gift giving, personalized Christmas gifts that express your thoughtfulness become lifetime treasures. These are the gifts that your friends and loved ones remember you for and cherish. Below are 25 of the best personalized Christmas gift ideas to consider for 2015.
Best Christmas Personalized Art Poem with Your Photo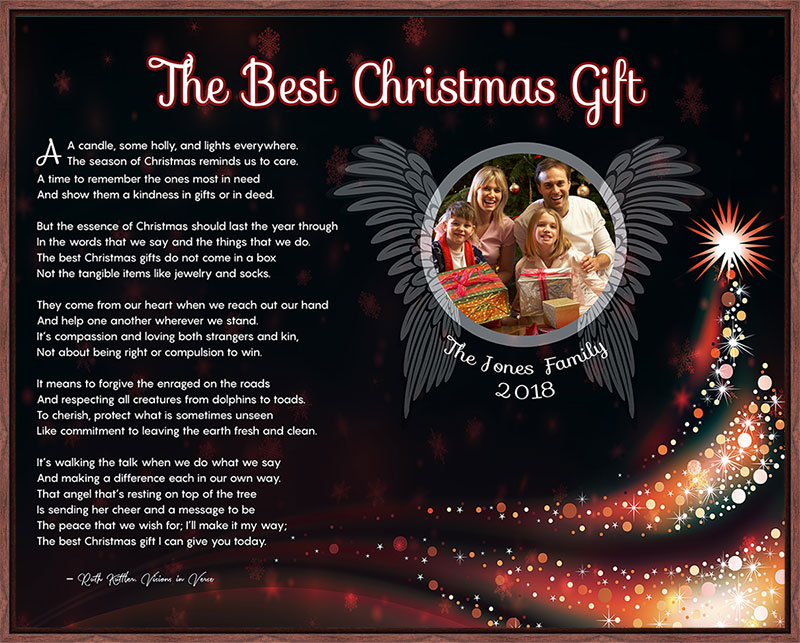 This unique personalized Christmas gift idea,  The Best Christmas Gift art poem printed on canvas, will inspire your family and friends with the true meaning of the holiday season. It is a gift that will keep on giving as it becomes a lifetime keepsake.
If you are looking for a Christmas gift to personalize that will inspire your nearest and dearest friends or family this holiday season, The Best Christmas Gift will stand apart from the ordinary and give special meaning to your celebration. The words in this Christmas poem will help you to understand that the greatest gifts don't come with a cost and are available for everyone to give. It shows us how each of us can make a difference in simple but important ways throughout the entire year.
Read the poem at your Christmas dinner and inspire your guests to think about the spirit of this holiday in a whole new way. The artwork is easily personalized by uploading a high-quality photo that replaces the placeholder picture shown. Artwork in multiple print and canvas formats is ready for hanging on the wall. Shipping is free in the US.

Personalized Christmas Ornament Gift for New Grandparent
Personalized Christmas Silver Tree Ornament
Personalized Engaged Couple Christmas Holiday Gift Ornament
Our First Christmas as Mr and Mrs Holiday Gift Ornament
Personalized Family Tree Chart
Cookie Imprinter – Customizable Alphabet Cookie Cutters Set
Personalized Graduate Heart Shape Christmas Ornament
Name Personalized Engraved Cutting Board
Personalized Antique Trinket Box
Personalized Brewery Growler Set
Personalized Rosewood Case and Two Pens for Men
Acrylic Personalized Office Desk Name Plate
Monogram Address Stamp – Personalized Self Inking Rubber Stamp
Personalized Leatherette Red Monogrammed Jewelry Box
Custom Made Monogrammed Sterling Silver Necklace 
Sterling Silver Personalized Name Necklace with Swarovski Birthstone
Mother Necklace Personalized Disc Name Necklace- Custom Made with Any 3 Names
Personalized Mens Italian Leather Padova Double Compartment Laptop Messenger Bag
Personalized Women's Italian Bull Leather Bella Fellini Double Compartment Leather Laptop Briefcase
Personalized Designer Address Stamp
You Are Loved, Lyndsay: Personalized Book & Coloring Book
Hallmark Personalized Books: Princess
Personalized Kid's Piggy Bank
Thankful for Emaree: Personalized Book of Love & Gratitude
What gifts will you give this holiday season? These 25 personalized Christmas gift ideas will help you to choose a gift that will surely show someone special in your life just how much you care. Your personalized gift will likely become their lifetime treasure with memories of you and your thoughtfulness always.